Mitsubishi Electric launches NX2 chillers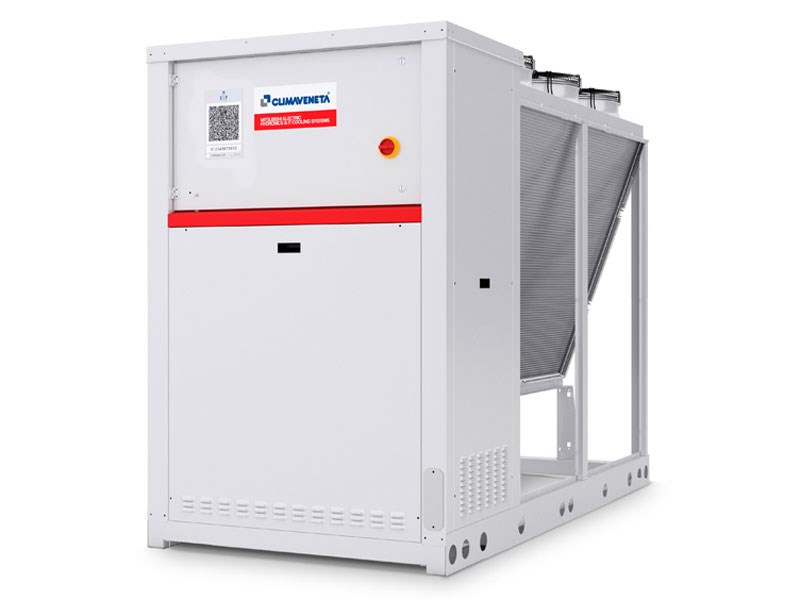 Mitsubishi Electric has introduced a new Climaveneta-branded NX2 range of air source scroll chillers, which it says offers improved energy efficiency and sustainability.
A plug and play solution with low noise levels, the chillers are said to be an ideal solution for HVAC plants within hotels, offices, leisure centres, hospitals, and universities.
The new chillers complete the NX2 range, offering a two and four scroll compressor version with a capacity range from 40 to 376 kW. 
Both options are available with the lower-GWP R454B refrigerant, ensuring high levels of energy efficiency alongside quality comfort cooling, as well as R410A. The complete range is Eurovent certified and far exceeds the minimum seasonal efficiency level of 2021 imposed by EcoDesign Directive.
The systems have been designed for perfect acoustic wellbeing, and operate at lower noise levels than the previous range, helping them to achieve one of the best sound power levels in the market, while maintaining the same performance and footprint as the standard acoustic version. 
They are also designed with high levels of seasonal efficiency in mind, and achieve excellent SEER values that are over 11% higher than the previous range. These values could be boosted by selecting the optional UP kit (Ultra Performance kit), achieving top efficiency levels on the market.
James Chaplen, Senior Product Manager at Mitsubishi Electric, said "We're thrilled to expand the NX2 product range with two plug-and-play solutions. With high efficiencies at full and part load, low sound levels and ease of installation, the NX2 range is the ideal choice for both new projects and to replace old units in existing plants. The integrated hydronic modules guarantee simplified installation and time-saving commissioning – creating a ready-to-be-installed solution.
The new ranges are also equipped with additional options, including optional smart controls such as night mode, which brings sound levels to a minimum by reducing resource activity during low load periods, and leak detection. 
The full range of new products includes:
NX2 2-compressor series:
NX2-G02 using R410A refrigerant
NX2-G06 optimized for the use of low GWP R454B refrigerant
NX2 4-compressor series:
NX2-G02 [P] using R410A refrigerant with plate heat exchanger (176-376 kW)
NX2-G02 [T] using R410A refrigerant with shell and tube heat exchanger (176-376 kW)
NX2-G06 [P] optimized for the use of low GWP R454B refrigerant with plate heat exchanger (167-346 kW)
NX2-G06 [T] optimized for the use of low GWP R454B refrigerant with shell and tube heat exchanger (167-346 kW)
For more information visit the Mitsubishi Electric website
---
Related Files
---