New Mitsubishi Wall Mount uses new low GWP refrigerant
The newly launched range of wall mounted air conditioning units from Mitsubishi which use the latest R32 refrigerant is the MSZ-LN Series.
Designed to be good looking as well as efficient, this inverter range is available from 2.5 to 6.1 kW cooling output, (which because of their outstanding efficiency requires a system power input of only 0.485kW and 1.79kW), and 3.2 to 6.8 kW heating output (input 0.68kW to 1.81kW) with an energy efficiency classification of A++ or A+++ depending on the output of the model selected.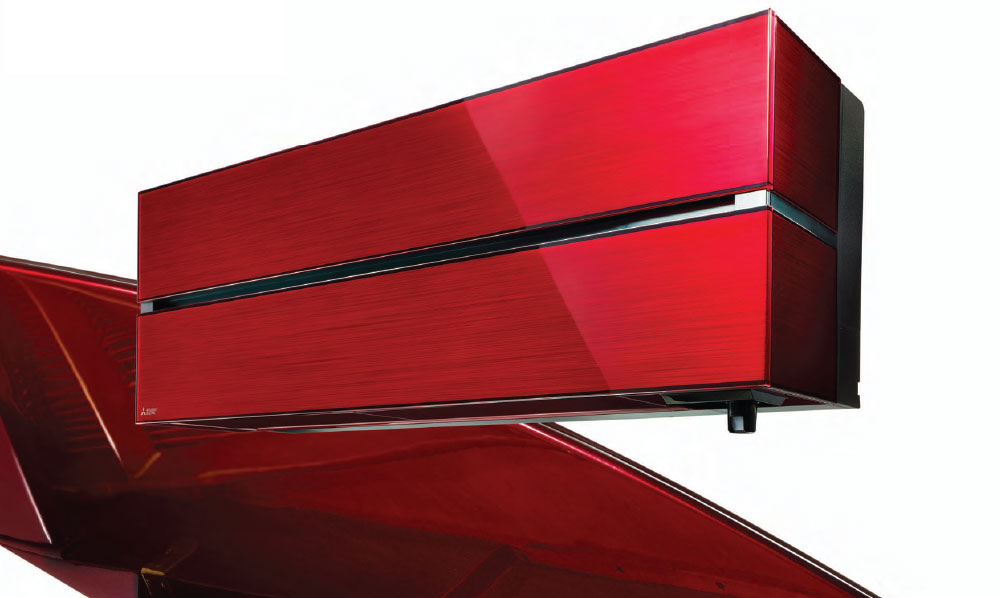 The range comes in 4 different finishes; Ruby Red, Onyx Black, Pearl White and Natural White and has several valuable features:
An "i-see" infrared sensor which monitors room occupancy, the position of the occupants, and their body temperature and automatically adjusts the units output accordingly.
Double vanes direct the airflow from the unit into the room, operating independently to ensure even distribution.
A Dual Barrier Coating used in the Heat Exchanger, Fan and Air Duct prevents any build-up of dust or grease from forming and impairing the performance of the unit, this combined with the Plasma Quad Plus Filter ensure that all types of Bacteria, Mould Spores, Dust, Virus's and Pollen is filtered out and not blown back into the room.
Each unit comes complete with a stylish remote control which matches the colour of the unit
Each unit is complete with a built-in Wi Fi interface enabling remote control via Mitsubishi's exclusive MELCloud app. This means you can use your PC, Laptop, Tablet or Smartfone to control the unit from anywhere in the world!
The range also incorporates "Replace Technology" meaning that existing A/C pipework can be used, without the need for any special cleaning when using these units to replace old units using the now illegal R22 refrigerant.
Please don't hesitate to contact Oakland Air Control to discuss these units and their installation. As a Mitsubishi Business Solutions partner, we can guarantee a top-quality installation and subsequent regular servicing, giving you, the customer a 7 year guarantee on both the indoor and outdoor units.
---
Related Files
---